Bathroom Renovation Services
We offer complete renovation services from design to completion. We have creative solutions to meet all your renovation needs and exceed your expectations. Call us at (613) 288-9145 and talk to one of our representatives about your project.
There is nothing like coming home after a long day of work and taking a relaxing hot shower. A glass shower enclosure renovation is a great way to increase your shower functionality. A shower enclosure helps avoid water spilling over the bathroom floor and increases your steamer's effectiveness. Renovating your shower and replacing your shower enclosure also significantly changes the looks of your bathroom, giving it a more modern appearance.
To help you decide if a glass shower enclosure renovation is a good idea for you, here are some benefits of a glass shower enclosure.
Privacy
Glass shower enclosures increase privacy because they reduce visibility and audibility. The noise insulation a glass shower enclosure provides helps you to have peace while taking a shower. Regarding visibility, many glass alternatives can block visibility, like frosted glass.
Maintenance
Glass shower enclosures are low-maintenance. They are easy to clean and highly durable. You can also apply protective coating options when installing to avoid water and soap scum spots on the surface.
It's mould free
Bathrooms are a very moist area of the house, so it is very prone to mould development. Glass shower enclosures are moisture-resistant, so mould will not grow on them, unlike shower curtains. 
Safety
Shower curtains can be dangerous for kids and the elderly because they get wet and leak, causing slip and fall. Glass shower enclosure is a safer option since it reduces water leakage, containing all water residue inside the shower enclosure.
Energy efficiency
A glass shower enclosure allows natural light to flow through the bathroom, which reduces the need to use artificial lighting. 
Enhanced appearance 
Glass shower enclosures add a contemporary look to your bathroom, increasing the aesthetics and appeal. 
It is customizable
Glass shower enclosures are available in many different sizes, shapes and styles. You can:
choose between framed or frameless;

choose different glass finishings;

choose door handles that fit your style;

choose between sliding doors or a traditional shower door that can open inward or outward;

among other choices to make it highly personalized.
Ottawa Home Pros can provide you with a wide range of glass shower enclosures for your bathroom renovation to make your bathroom aesthetically appealing and highly functional.
Ideas for your glass shower enclosure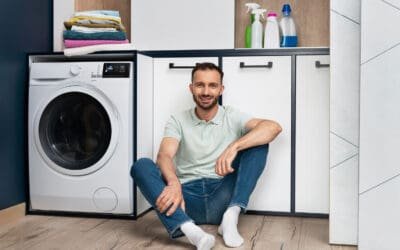 Transforming your basement into a functional laundry room is a practical and space-saving solution for many homeowners. In this guide, we'll take...
read more
Ottawa Home Pros offers glass shower enclosure services in the Ottawa area.
Give our Ottawa general contractors a chance to earn your trust and your business.
Call us today at (613) 288-9145 for your renovation project.