Kitchen Remodeling And Renovation Costs
A recent survey by Houzz revealed that many homeowners are not aware of how much a kitchen renovation will cost. The costs of a kitchen renovation can be quite high. Many factors contribute to the cost, including materials and labour. The price is dependent on what type of supplies you will need, such as cabinets or countertops. In addition, several other factors affect the total price tag for your project: fixtures, appliances/specialty equipment, electrical work and plumbing work. On average, a kitchen renovation today costs on average $200/sq foot. There is still a wide range; however, that will vary with the finishings that you choose.
Budgeting For You Kitchen Renovation
You need to make sure that you have enough money set aside for your kitchen renovation. Factors like the size and materials of the space will determine how much it costs, but there are other things as well; source lighting with dimmers, so cooking doesn't become difficult in poorly lit areas; purchase new appliances such as refrigerators or dishwashers as they often come with Smart features.
Here is a general guideline of what you need to be budgeting for your kitchen renovation:
Small Kitchens $12,000 to $20,000
Medium Sized Kitchens: $25,000 to $45,000
Large Kitchens: $50,000+
You should also set aside a contingency amount for unexpected or unforeseen problems. Generally, this should be at least 15% of your kitchen renovation budget.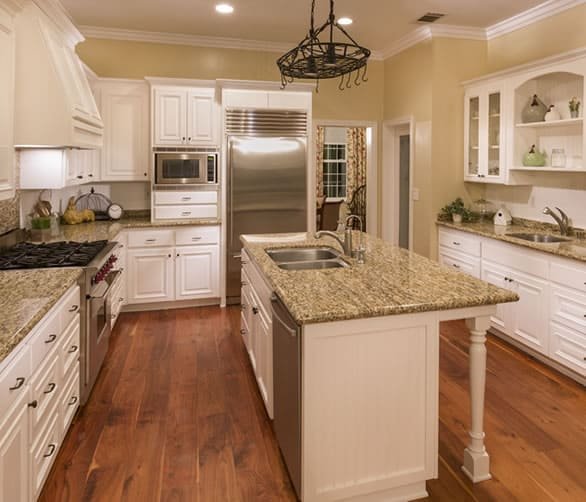 Ideas for your Kitchen Renovation
Kitchen design is a complex and ever-changing process. The latest trends in kitchens can be difficult to keep up with, but it's worth investing the time because every detail matters when you're designing your dream kitchen space for cooking as pro chefs do. We've put together some kitchen and remodelling ideas to help you.
Ottawa Home Pros provides kitchen renovation services in the Ottawa area.
Give our Ottawa general contractors a chance to earn your trust and your business.
Call us today at (613) 288-9145 for your next kitchen renovation project.